ABOUT US
Tim and Juan created the company in 2010 under the name SMARTCOACHING. In 2013 the company changed names to SCOPRO: Smart Coaching Products. As long time coaches in NorCal Premier, Tim and Juan had visions of launching several coaching products that all NorCal Premier members needed. The first product created was the GameDay Planner. The planner was a success and the company was ready to add more products. SCOPRO then brought in other investors; Mike Kelley (Mustang Girls DOC) and Reid Raukar (Long time friend). Thanks to our investors SCOPRO now has several products: Tactical Board, Carrying Case, # Magnets(Red, Blue, Orange, Green, Pink and Light Blue), GameDay Planner, Mini-GameDay Planner, Training Planner, and Coaching Clipboards. In 2019 SCOPRO added on another partner Admiral, who now produces SCOPRO products.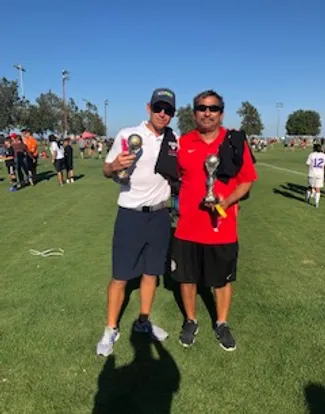 Co-Founders:Tim Maycock & Juan Lojas
Tim Maycock
Tim grew up in Roseville and played for Placer United as a youth player. He then played college soccer for Sonoma State University from 2001-2005 where he won a division 2 National Championship in 2002 and CCAA Conference Championship in 2005. Tim then played Semi-Pro for 8 years with Sonoma County Sol, winning a NPSL National Championship in 2009. Currently, Tim coaches for North Coast Futbol Club (Petaluma) where he has been the Boys Director of Coaching since 2009.
Juan Lojas
Juan grew up in Peru. His family moved to California where Juan continued his playing career. Juan played at Santa Rosa Junior College, where he was an All American. He then transferred to Sonoma State to become the schools 5th all time leading scorer. Juan has also been very successful in Sonoma County starting several other businesses. Juan currently coaches at North Coast Futbol Club (Petaluma), coaching 3 teams in the club.